Merck Awards Contract to Booth Welsh for Design of New Irvine Manufacturing Facility
Merck, a leading science and technology company in healthcare, life science and performance materials, has recently awarded Booth Welsh the contract to design and construct a new state of the art flexible manufacturing facility.
The new development will feature at the Merck site in Irvine, Scotland, and will be created to support the manufacture of future products in line with market demands.
The existing facility currently produces a range of Liquid and Dry Powder Media products, employing around 250 people. The new manufacturing space will be constructed by modifying an existing area within this facility to optimise operations and incorporate single use systems to carry out hydration of large quantities of powder within a grade C environment. It will also include the ability to automatically dose acid and alkali.
The Booth Welsh scope will include complete multi-discipline design, project management, process control system, C, E & I installation, sub-contractor supervision and overall site management.
To support the delivery of this large project, Booth Welsh will be strengthening its engineering and projects team.
Gavin Florence, Booth Welsh Projects Director, commented,
"This project which is right on our doorstep will mark our first multi-discipline project with Merck. It is fantastic to strengthen our partnership with Merck particularly in such critical times for the life sciences sector. I look forward to working closely with the team over the next number of months to deliver this exciting new facility."
John Gibson, Operations Manager and Project Lead, added,
"Merck continues to invest in the Irvine site and we are delighted to be partnering with a local company on this project. In the latest investment the Irvine facility will add new capabilities and manufacturing capacity which will not only support the emerging concentrated buffers market but also provides a highly flexible & agile manufacturing space. The team are excited about the project and collaboration with Booth Welsh."
Pictured is John Gibson, Merck Operations Manager & Martin Welsh, Booth Welsh Managing Director, officially signing the partnership on the new project.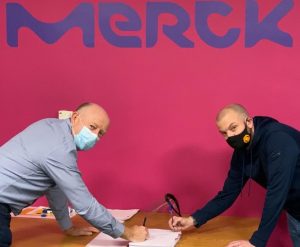 Sigma-Aldrich Co Ltd (Merck) is a subsidiary of Merck KGaA headquartered in Darmstadt, Germany. Merck is a global leader in specialized pharma and chemicals and for 350 years, has improved people's quality of life. The company is a top tier supplier to the life science industry and also as a strategic partner for scientists, engineers, and researchers.