News Piece taken from NMIS website | National Manufacturing Institute Scotland (NMIS)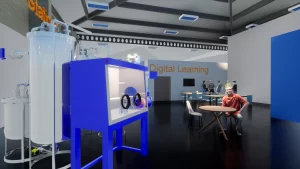 The National Manufacturing Institute Scotland (NMIS) Group, operated by the University of Strathclyde, has announced that it will open a new technology centre in Ayrshire in partnership with North Ayrshire Council and deep tech innovation organisation, CPI, to help the country's process manufacturing industries embrace emerging technologies and fast track a net-zero future.
Targeting process industries including Scotland's £9 billion oil and gas, £15 billion food and drink and thriving pharmaceutical and chemical sciences industries, the new Digital Process Manufacturing Centre (DMPC) located at i3 in North Ayrshire will offer training opportunities, cutting-edge digital demonstrators and access to expert support on research and development (R&D).
The news follows last year's announcement that the University of Strathclyde was set to work in partnership with North Ayrshire Council and CPI committing to future proofing the process industries through support for digitalisation and data-driven manufacturing.
Following the successful delivery of a series of specialist courses through the NMIS Manufacturing Skills Academy, the partners are now ramping up support through the new centre, which will be housed in an existing manufacturing facility after it undergoes a half million-pound refurbishment. The centre is set to open its doors later this year.
Including space for industrial engagement and a digital demonstration laboratory, the DPMC will provide hands on experience of industry 4.0 technologies across the pharmaceuticals, oil and gas, food and drink, chemicals, water, and fast-moving commercial goods industries, initially supported by a team of six NMIS engineers and researchers.
It will be the first time the Scottish Government backed NMIS Group has opened a centre outside of Renfrewshire's Advanced Manufacturing Innovation District Scotland (AMIDS) where it operates out of the University of Strathclyde's Advanced Forming Research Centre (AFRC) and Lightweight Manufacturing Centre (LMC) and will soon open its new headquarters.
NMIS leads ground-breaking manufacturing research to transform productivity levels and boost workforce skills, working with companies of all sizes from growing local firms to manufacturing giants including Boeing.
CPI, collaborates with partners in industry, academia, government, and the investment community to accelerate the development and commercialisation of innovative products in healthcare and sustainability.
Marking the first time that High Value Manufacturing (HVM) Catapult centers NMIS and CPI have joined forces to open a centre, the DPMC will provide unrivalled cross-industry and academic expertise to businesses across Scotland and beyond at a critical time for manufacturers looking to become more sustainable and mitigate historically high energy costs.
The DPMC will be funded by the Ayrshire Growth Deal, Scottish Enterprise, University of Strathclyde and CPI, and will be supported by ongoing membership income.  Currently home to Booth Welsh, GSK, DSM, and Merck Group, the Ayrshire region is undergoing a rapid industrial transformation, benefitting from a funding injection of up to £21 million from the Ayrshire Growth Deal to create the i3 Digital Innovation Campus and Low Carbon Business Park in Irvine.
A new Centre of Excellence is also being developed in Kilmarnock as part of the Ayrshire Manufacturing Investment Corridor (AMIC) project that will provide onsite support and start-up units to create and grow local food and drink businesses, and complement support offered by the DPMC.
Keith Ridgway, Executive Chair, National Manufacturing Institute Scotland said:   
"At the National Manufacturing Institute Scotland, we're re-establishing Scotland as a manufacturing powerhouse and doing it proudly as part of the High Value Manufacturing Catapult family. Working closely with our Catapult colleagues at CPI, we're leveraging our combined experience, expertise and networks to deliver powerful solutions for industry.

"Opening our first centre outside of Renfrewshire also demonstrates that we are here to support manufacturers, wherever they are. From fish processing factories in Peterhead looking to become more resource efficient and cut costs, to Ayrshire pharmaceuticals businesses that want to explore data control and analytics to become more competitive, the Digital Process Manufacturing Centre (DPMC) can help.

"We're delighted to be joining forces with North Ayrshire Council on this vital new offering for the process industries"
Professor Sir Jim McDonald, Principal and Vice-Chancellor of the University of Strathclyde, said:
"This new facility demonstrates that NMIS is a truly national asset committed to supporting process manufacturing industries across Scotland.

"It is an example of the benefits that can be realised through academia, industry and government working together and will help high-value manufacturing companies across a range of sectors to take advantage of the 'industry 4.0' digital revolution.

"Strathclyde is proud of its 'triple-helix' approach to partnership working and we very much look forward to deeper collaboration with industry, creating jobs and skills, growing an innovation-led economy and realising a net-zero future in North Ayrshire and beyond."
Frank Millar, CEO, CPI commented:

"This partnership brings together the expertise from two High Value Manufacturing Catapult Centres to contribute to futureproofing digital process manufacturing by supporting individuals and businesses to upskill, resulting in increased productivity and creating the workforce of tomorrow. It also further establishes CPI's presence in Scotland, which is home to our Medicines Manufacturing Innovation Centre, a facility leading the way in advanced manufacturing."
Councillor Tony Gurney, Cabinet Member for Economy & Climate Change, North Ayrshire Council, said:
"We are delighted that the new Digital Process Manufacturing Centre will be situated within the i3 area of Irvine.

"North Ayrshire has a strong industrial heritage in manufacturing and this Centre will help to transform and modernise our business base.

"Manufacturing jobs make up a higher-than-average proportion of jobs in North Ayrshire. It is therefore vital that we target resources, skills and expertise toward this sector to future proof jobs and ensure our young people have sustainable employment opportunities in the future.

"We have created strong partnerships with NMIS and CPI which will bring technical expertise and academic research and innovation right into the heart of North Ayrshire.

"This latest announcement is hugely significant one and will allow us to offer an unparalleled level of digital and data support for businesses in Ayrshire that will help to accelerate their future growth."
UK Government Minister for Scotland, Iain Stewart said:
"The DPMC will keep Scotland at the cutting edge of advanced manufacturing.  This will attract further business investment, ensure our industries remain competitive and efficient, and create high-value and skilled jobs.

"The UK Government is investing £5m in the i3 Advanced Manufacturing Space as part of its £103m support for the Ayrshire Growth Deal; and across Scotland we are investing £2bn into regional projects to level up communities."
Find out more about DMPC: | National Manufacturing Institute Scotland (NMIS)